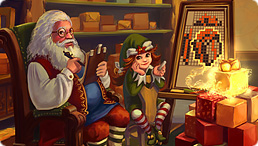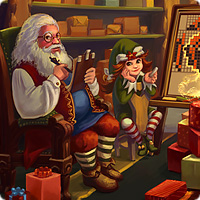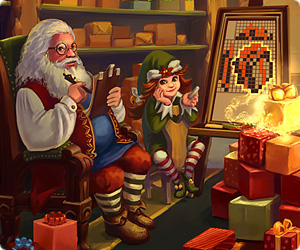 Dieses Spiel wurde von unseren Sponsoren präsentiert. Das ist immer kostenlos. KEINE ZEIT LIMITS!
You will be offered to install MyPlayCity Games Search Chrome Extension with convenient internet search.
Christmas Griddlers: Journey to Santa
Return Christmas atmosphere and solve lots of challenging griddlers in the captivating game Christmas Griddlers: Journey to Santa! All the children have a dream of visiting the Santa's apartments in the faraway north. Just remember your childhood, you want to look at the kind magician with your own eyes as well. But dreams remain dreams as they used to. But don't be upset, in the game Christmas Griddlers: Journey to Santa you have a unique chance to meet Santa! Launch the game and don't waste a minute! Here you will train your logic skills, prepare to work hard to get an audience with Santa Claus. Are you familiar with nonograms? It's a kind of Japanese puzzles where you should fill in necessary cells according to the numbers to make a picture. Difficult mission? Maybe within first 5 minutes only! If you are a novice in griddlers, look through a detailed tutorial here with all the hints of playing nonograms and you'll like it! You are to fill in all the necessary squares in the grid to complete the puzzle. The rules are simple: just look at the numbers and fill in the squares to get a pattern. Horizontal lines (rows) are read from left to right while vertical lines (columns) are read from top to bottom. Follow the main rule of solving griddlers – never try to guess a solution! Haste is your worst enemy here, be attentive and you'll be a success. You can get 1, 2 and 3 stars for completing the level, so you can unlock the next level if you have at least 1 star. But if you'd like to explore all the locations, you should have a certain amount of stars. Use bonuses: Refilling hints during the level, 2xHints and a great bonus – 3xRights for mistake can prevent you from replaying the level. Don't forget: the better you cope with the level — the quicker you unlock new locations and get a great collection of trophies and rewards. Find 6 new locations and enjoy brain training puzzles. Snowy Town, Toy Store, Magic Forest and at least Santa's House are here to be explored by you! Have fun in the game Christmas Griddlers: Journey to Santa!