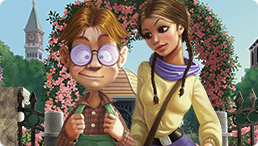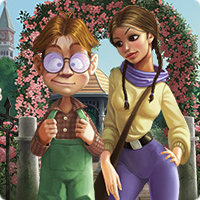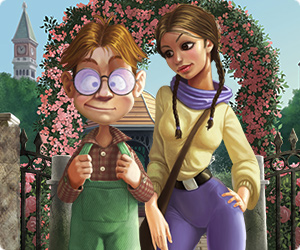 Dieses Spiel wurde von unseren Sponsoren präsentiert. Das ist immer kostenlos. KEINE ZEIT LIMITS!
You will be offered to install MyPlayCity Games Search Chrome Extension with convenient internet search.
Hello Venice
Help Ciro turn the devastated garden to a paradisal place in the game Hello Venice! Each of us has our own hobby and it can be extreme racing or cross stitching, archeology or gardening. What's yours? Are you interested in mysterious manuscripts where the famous alchemists wrote the secrets of their potions? Ciro, the main character of the game Hello Venice, is fond of revealing the ancient recipes written by mages and warlocks and gardening as well. He is like a druid, all the plants grew fast under auspices of the boy. And that's why he was so happy to inherit a garden in Venice. It's really devastated, nothing was grown on its ground long ago, so now your aim is to help Ciro and his mother return to the garden its former glory! You have a lot to do: clean the ground, prong and fertilize it to get a good harvest. You can plant there everything you want but Ciro is fond of flowers, so he is going to turn this plot of land into the flower garden. It's time to check if you are skillful enough in gardening! Play the game Hello Venice and set out a journey to become the owner of a land in Venice! Ciro and Adda need your help! Play the mix of time management and match 3 game Hello Venice and have fun! There are lots of flowers to plant, various kinds of grass to buy and several fertilizers to choose. Besides it, you get various decorations to make the garden really beautiful! Play challenging match 3 levels that will bring you both money and scores. Join the amazing adventure together with Ciro and Adda and reveal the mysterious story about the garden. The legend says that a powerful alchemist and mage enchanted a beautiful girl and turned her into the evergreen garden. Help Ciro find out whether it's true or not! Play uneasy match 3 levels, combine the balls of the same color to chains and remove them from the game board. The longer the chain is, the more scores you get. Get ready to funny vacations in the game Hello Venice and visit Venice for free! Examine the age-old manuscripts and return the garden its former glory!
Funktionen
Mix of match 3 and time management
Lots of flowers
Amazing story
Systemforderungen
Windows 98/XP/Vista/7/8/10
600 Mhz Prozessor oder höher
256 Mb RAM
DirectX 8.1