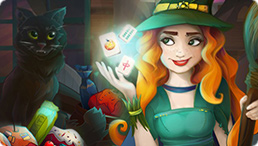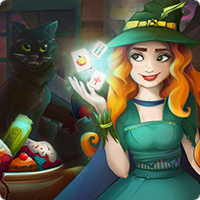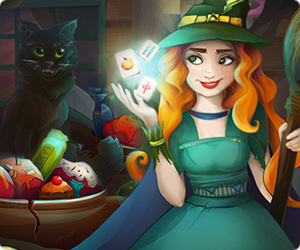 Dieses Spiel wurde von unseren Sponsoren präsentiert. Das ist immer kostenlos. KEINE ZEIT LIMITS!
You will be offered to install MyPlayCity Games Search Chrome Extension with convenient internet search.
Halloween Night 2 Mahjong
Enjoy the eerie Halloween mahjong layouts in the game Halloween Night 2 Mahjong! If you are fond both of Halloween's unique atmosphere and brain training mahjong, you'll definitely appreciate this new game! There are several locations at your disposal, but you can unlock them one by one while coping with mahjong layouts. The first location you are to explore is the Abandoned Field, be attentive and quick to complete the tasks lightning fast and unlock other locations. For example, remove 6 golden tiles, earn 500 points and complete the level in 28 moves to get the highest reward. Accept the challenge and see if you are skillful enough to fulfill all the requirements. If you have never played mahjong before, look through the detailed tutorial and you'll get into the gameplay quickly enough. Tiles are considered to be matching if they are of the same category and value. Such a pair of available matching tiles can be removed from the game board. At the beginning of the level you get special tasks to complete – remove the exact quantity of golden tiles, get the required number of points and comply the level within the designated amount of time or try not to exceed the limit of given moves. You have a multiplayer below, do your best to fill it and get extra bonuses. Find the unlocked pairs of special tiles and remove them, the season tiles can be removed even if the tiles look different. At the bottom of the game board you see the shuffle bonus, so when it is filled and you are stuck – use it to shuffle the tiles and go on playing! Silver tiles can restore the shuffle bonus immediately, so try to remove it at first. Play a large variety of layouts: fast blitz levels and multi-layer levels of 200 tiles – choose what you like most! Get ready to see the most mysterious places: a Ghost Town, an Enchanted Forest, a Vampire Castle and much more! Start the game Halloween Night 2 Mahjong from Novice and become the Grand master! Dive into an exciting atmosphere of this mystical holiday and celebrate Halloween!