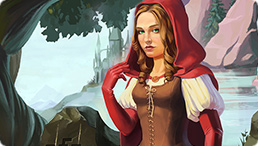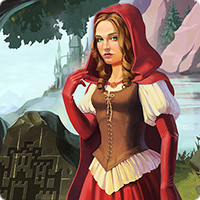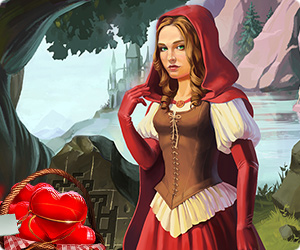 Dieses Spiel wurde von unseren Sponsoren präsentiert. Das ist immer kostenlos. KEINE ZEIT LIMITS!
You will be offered to install MyPlayCity Games Search Chrome Extension with convenient internet search.
Fairytale Griddlers: Red Riding Hood Secret
Cope with numerous griddlers and help the girl find her parents in the marvelous logic game Fairytale Griddlers: Red Riding Hood Secret! Are you ready to train your skills and quick wits that are necessary while solving griddlers? Even if you have never played nonograms, with the game Fairytale Griddlers: Red Riding Hood Secret you'll soon become a profi! Griddlers are the same thing as nonograms, well-known as Japanese puzzles, where you draw a picture without a pencil. Both newbies and professional players will like playing the game without fail – it contains a helpful tutorial that will come in handy to any player. Don't skip it to know all the rules and hints of the gameplay and mechanics. Fairytale Griddlers: Red Riding Hood Secret is a game where you should fill in necessary cells according to the numbers to make a picture. Keep in mind the main rule – never try to guess a solution! It's better to start solving the puzzle with the numbers equal to the number of squares in the row or column. Just look at the numbers and fill in the squares to get a pattern! A duck, a ladybug, a nice ship… It's just the beginning! Help the pretty Little Red Riding Hood and brave Lumberjack cope with all the difficulties and outwit the cunning Grey Avengers! The main characters won't be able to cope with wolves without your help! There are several worlds to explore: Forest world, Lake world, Mountain world, Castle world. Cope with all the puzzles and get lots of achievements and trophies! If you are stuck, a helpful hint is at your disposal: Level 1 Hint fills 1 cell, Level 2 Hint fills a string, Level 3 Hint fills 5x5 block. You can also buy Rights for 3, 4 and 6 mistakes. Get such achievements as Fearless, Mermaid Happiness, King of Hill, Wolf Nightmare for exploring the locations and solving all the griddlers there. Become Virtuoso for completing 40 levels with 3 stars and get the title of a Magician for playing all the mini-games. Play the game Fairytale Griddlers: Red Riding Hood Secret, defeat the Grey Avengers, a band of wolves, that terrorized the village and save the girl's parents!