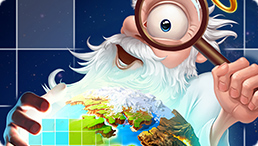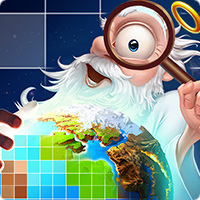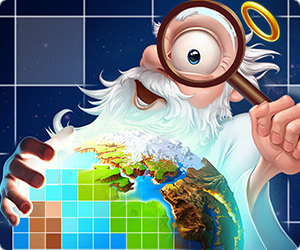 Dieses Spiel wurde von unseren Sponsoren präsentiert. Das ist immer kostenlos. KEINE ZEIT LIMITS!
You will be offered to install MyPlayCity Games Search Chrome Extension with convenient internet search.
Doodle God: Griddlers
Combine elements to discover the world in the game Doodle God: Griddlers! Try on the magic of creation and help the God to create the world! The creation of humanity and perfect griddlers puzzles is a great combination for any nonogramms fan! Start your way from the simplest microorganisms and create animals, mechanisms and entire armies! The ability to create the world is now entirely in your hands! You are to begin with the Water Evolution level where you'll get all the forms of water such as rain, ice, storm, glaciers, swamps and many others. Get through the challenging griddlers sets and unlock next levels: Air Evolution, Stone Age, Fire Evolution, Animal Kingdom, Homo sapiens. What are the griddlers? If you have never heard about them, you'll be undoubtedly surprised because the griddlers are special Japanese puzzles, where you should fill in necessary cells according to the numbers to make a picture. The main rule of the all griddlers puzzles is that you shouldn't ever try to guess a solution! Haste is your worst enemy here, be attentive and you'll be a success. It's better to start solving the puzzle with the numbers equal to the number of squares in the row or column. You can fill out all of them without thinking twice. You can get 1, 2 and 3 stars for completing the level, so to unlock the next level you are to have at least 1 star. But if you'd like to explore all the locations, you should have a certain amount of stars. Don't forget that the better you cope with the level – the quicker you unlock new locations and get a great collection of trophies and rewards. Get unique rewards with famous quotations for solving puzzles, there are many trophies. Get one for coping with a griddlers puzzle in less than 30 seconds, 3 levels in a row without hints and similar. The faster you are solving the puzzle, the quicker the hint bar is refilling and you'll get the hint itself. Play the extremely absorbing logic game Doodle God: Griddlers, get a collection of precious trophies and develop the world!