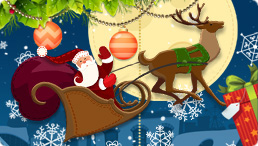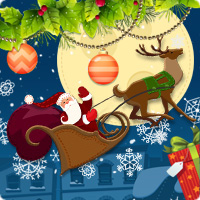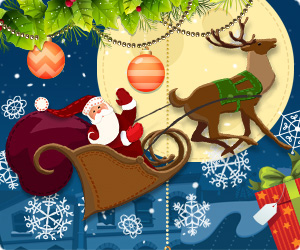 Dieses Spiel wurde von unseren Sponsoren präsentiert. Das ist immer kostenlos. KEINE ZEIT LIMITS!
You will be offered to install MyPlayCity Games Search Chrome Extension with convenient internet search.
Christmas Mosaic Puzzle
Enjoy Christmas atmosphere with wonderful mosaics in the breathtaking game Christmas Mosaic Puzzle! Sparkling Christmas holidays are in full swing, so it's high time to train your quick wits and upgrade logical thinking. In the game Christmas Mosaic Puzzle you will dive into the whirlpool of adventures and visit various locations. Are you ready? Launch the game and start celebrating! In the first location Elf-Helper you are to look through the tutorial and keep all the rules in mind. There are several conditions in each level, complete them all and unlock new locations. But, there is usually 3 points: assemble the mosaic, complete the puzzle without mistakes and finish the level within the limited amount of time. Be quick and you'll be a success! Look at the picture and think over where the piece of patchwork will be suitable. Restore the whole picture piece by piece and enjoy the great Christmas atmosphere in the game Christmas Mosaic Puzzle! Accept the challenge – further levels are more difficult than they are at the very beginning, but the pictures should still be finished within the limited time. Find the absent patchwork pieces, get money and buy bonuses to make your game easier. Increase the amount of given time or buy a helpful hint. When you are stuck, use them and the necessary puzzle piece will be highlighted. Collect stars and unlock the Christmas locations in the gorgeous game Christmas Mosaic Puzzle! Santa Claus is giving you 120 unique mosaics made of various materials: wood, cloth, paper, stone, metal, glass and precious stones, have fun while playing the game and get smarter! Christmas candles, bells, decorations, fireplaces and even stockings for presents are here on the pictures which you are to solve. At the end of the level you'll see the table of scores, where you will see all the statistics. Try harder and beat your own records in the funny logic game Christmas Mosaic Puzzle! Plunge into the winter fairytale with the game Christmas Mosaic Puzzle!
Funktionen
Nice graphics
Lots of colorful pictures
Various locations
Systemforderungen
Windows XP/Vista/7
1 Ghz Prozessor oder höher
512 Mb RAM
DirectX 9.0