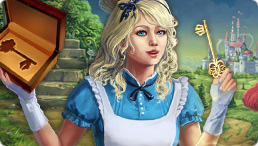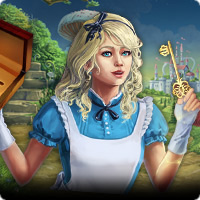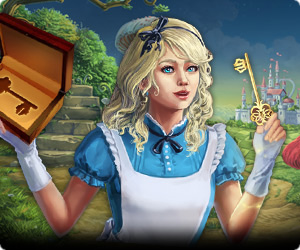 Dieses Spiel wurde von unseren Sponsoren präsentiert. Das ist immer kostenlos. KEINE ZEIT LIMITS!
You will be offered to install MyPlayCity Games Search Chrome Extension with convenient internet search.
Alice's Patchwork
Assemble all the puzzles and unlock the worlds of Wonderland in the stunning game Alice's Patchwork! Have you always dreamt to appear in the marvelous Wonderland and help Alice explore the magic world and outwit the terrible Queen of Hearts? Meet your favorite characters from the Wonderland and Looking-Glass Land to have fun! What's your favorite chapter from the gorgeous fairy tale about Alice? Each of them is really amazing: horrifying mad tea-party, swimming in the pool of tears, lobster quadrille or the weird Queen's croquet. You have a lot to do, don't waste time! The game Alice's Patchwork is a great masterpiece of puzzles where you are to match all the pieces correctly and align them. There are 6 locations: World 1, Rook, Knight, Bishop, Queen and King so your main aim is to discover the mysteries hidden there. For completing mosaics you'll get keys useful for unlocking the worlds – try to get them as quick as you can. Each level starts with annunciation of its conditions, usually there are 3 of them and they vary from the level's difficulty. But the stable condition is to complete the level without making mistakes. At first, it's quite easy but later on it becomes really undertaking. But don't give up – you get coins for matching the randomly thrown pieces of the puzzle. And they can be spared on the bonuses: hints and extra time. Time is running quickly, are you successful enough to solve the challenging puzzles in time? We'll see! But keep in mind that you can buy extra 30 seconds, hints and even refill them instantly for 5000 coins. So brace yourself to the miraculous trip to the Wonderland! All the puzzle-fans will highly appreciate the game Alice's Patchwork, because it's not as easy as ABC at all, it's time to rack your brains. Upgrade your attention and logical thinking and do your best not to make mistakes otherwise you'll fail to get the additional key for unlocking next levels. Enjoy the absorbing gameplay and help Alice overcome numerous obstacles in the nice puzzle game Alice's Patchwork! Dethrone the malicious Queen of Hearts and help Alice become the new Queen of the Wonderland!