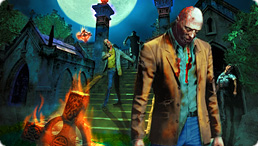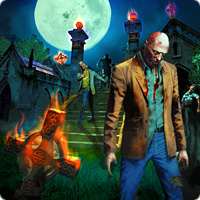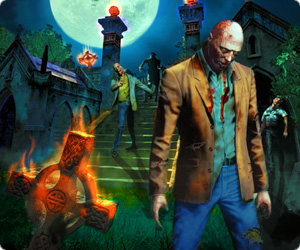 This game is brought to you by our sponsors. It is always free. NO TIME LIMITS!
You will be offered to install MyPlayCity Games Search Chrome Extension with convenient internet search.
Cemetery Warrior
Have you ever experienced long walks along the old cemetery? What did you feel? Of course, such an experience scares and makes you think of those creatures that might exist there. You must admit the fact that at least once in your life you thought of zombies and clammy sweat appeared on your skin. Perhaps, this idea sounds funny and unreal, but many people believe there is something strange and mysterious in our world we even don't realize. A single look at an ordinary graveyard not far from the city makes our imagination draw terrifying pictures of zombies walking among the tombs, crying and looking for the victims with their eyes full of blood! One starts shaking in his shoes, his heart beats faster and his face turns pale. Do those people really think it's possible? Well, sometimes things do happen and if you're not afraid then you can check these suppositions and become a real Cemetery Warrior. Here your night adventure begins. Get ready for the strike and complete it. To feel confident and safe you'll be given 3 types of weapons any of which can give you an advantage over the enemies. If you're determined to win then don't lose your time, choose the gun you like and make use of it. Hide first then attack suddenly to kill zombies. Act as a Cemetery Warrior. It'll be quite dark already so be attentive, concentrate and look around: the dead are everywhere. When all of them are killed the boss will come to take revenge. Don't let him do it, shoot and do your best to succeed. The game entertains you a lot, here everybody can become a Cemetery Warrior!