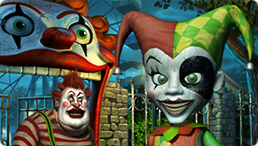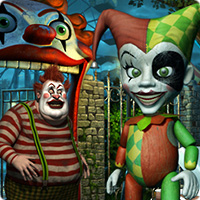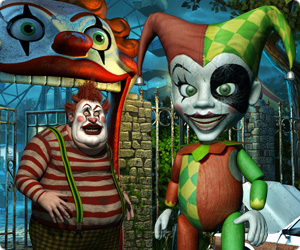 This game is brought to you by our sponsors. It is always free. NO TIME LIMITS!
You will be offered to install MyPlayCity Games Search Chrome Extension with convenient internet search.
Weird Park: Broken Tune
Return to the Fairy Gate Park to solve crimes in the breathtaking game Weird Park: Broken Tune! Are you ready to get back to the sinister place from where you hardly managed to come off with a whole skin? Even if you are not prepared to a story like that, you are the only one who can do it, so that's that. The address is familiar to you: Fairy Gate Park on the Highway, 17 welcomes you. But be careful, the evil powers are happy to kill you for taking them to the limelight. The skillful detective is on the warpath! Brace yourself to the bone chilling adventures in the game Weird Park: Broken Tune and meet Louis the Clown and Mr. Dudley again! What's happened to this secluded place? An abandoned park looks uninhabited, but this is a deceitful impression: when nobody sees, the evil powers perpetrate these evil deeds. And now a lot of people vanished in this amusement park and nobody knows what has happened to them. John Flatter, the well-known reporter was at all pains to write the article about the Fairy Gate Park and discover its mystery but he disappeared. Too many crimes in one place, yeah? Set off the journey to this sinister place and discover the truth! The newspapers grew variegated about the strange things happen to the Fairy Gate Park: a detective once fell into fit of laughter and died from oxygen deprivation, so scary, isn't it? Aren't these things a trick of Louis Gauche, the clown that died in the Fairy Gate Park long ago during his show? It's time to investigate the crimes! There are various hidden object scenes in the game Weird Park: Broken Tune, explore the colorful yet bizarre locations and find all the items from the list to get closer to the truth. Solve a great variety of mini-games and practice your skills in shooting, repairing and matching pictures from the randomly thrown pieces. The game Weird Park: Broken Tune is for true daredevils, they will appreciate the dark decorations, gloomy locations and sinister plot without fail! Outwit the evil powers in the game Weird Park: Broken Tune, solve the crimes and banish the clown Louis and Mr. Dudley back to hell!
Features
Sinister locations
Lots of hidden object scenes
Intriguing plot
System Requirements
Windows XP/Vista/7/8
Processor 1 Ghz or better
512 Mb RAM
DirectX 9.0