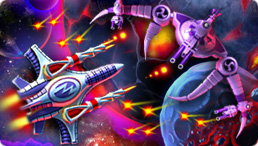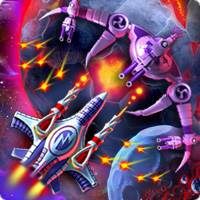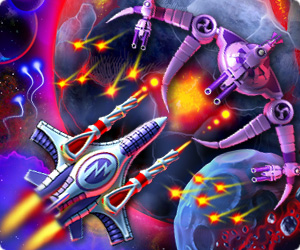 This game is brought to you by our sponsors. It is always free. NO TIME LIMITS!
You will be offered to install MyPlayCity Games Search Chrome Extension with convenient internet search.
Astro Fury
You are alone against the whole hip of spaceships attacking the planet! Their furious attacks don't let you move freely, their space supremacy is strong, their force is obvious as never before. Lots of alien enemies ruled by the monster-boss are here and there is no escape from them in the galaxy. Unless you learn the tactics and start to fight with them! Pull yourself together, don't be scared by the mission and the rival's strength - go ahead and prove you are the one to save the planet from the invaders! Astro Fury is an excellent experience for those who adore fighting, changing weapons and defeating evil opponents. Alone against the huge army! What bravery must you have to stop them - still nothing is impossible! You've got the equipment, the ship, and the talent of an unsurpassed pilot! Astro Fury will be a great campaign with furious onslaught, aggressive attacks and you must be ready for swift moves and exact shooting! Astro Fury contains three skill levels, numerous stages that will end with a final battle against the boss. You are free to get upgrades - if you fight well enough and destroy many aircrafts. Every time you are attacked you need to dodge the bullet, the rocket or whatever you are shot with. Otherwise the number of lives will be decreased. There are 10 big levels with stages inside. Each is full of a wide variety of aircrafts that differ in size, level of danger and speed. You need to adjust to the new types of enemies quickly or you will be the one defeated today!